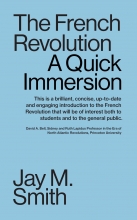 Portada: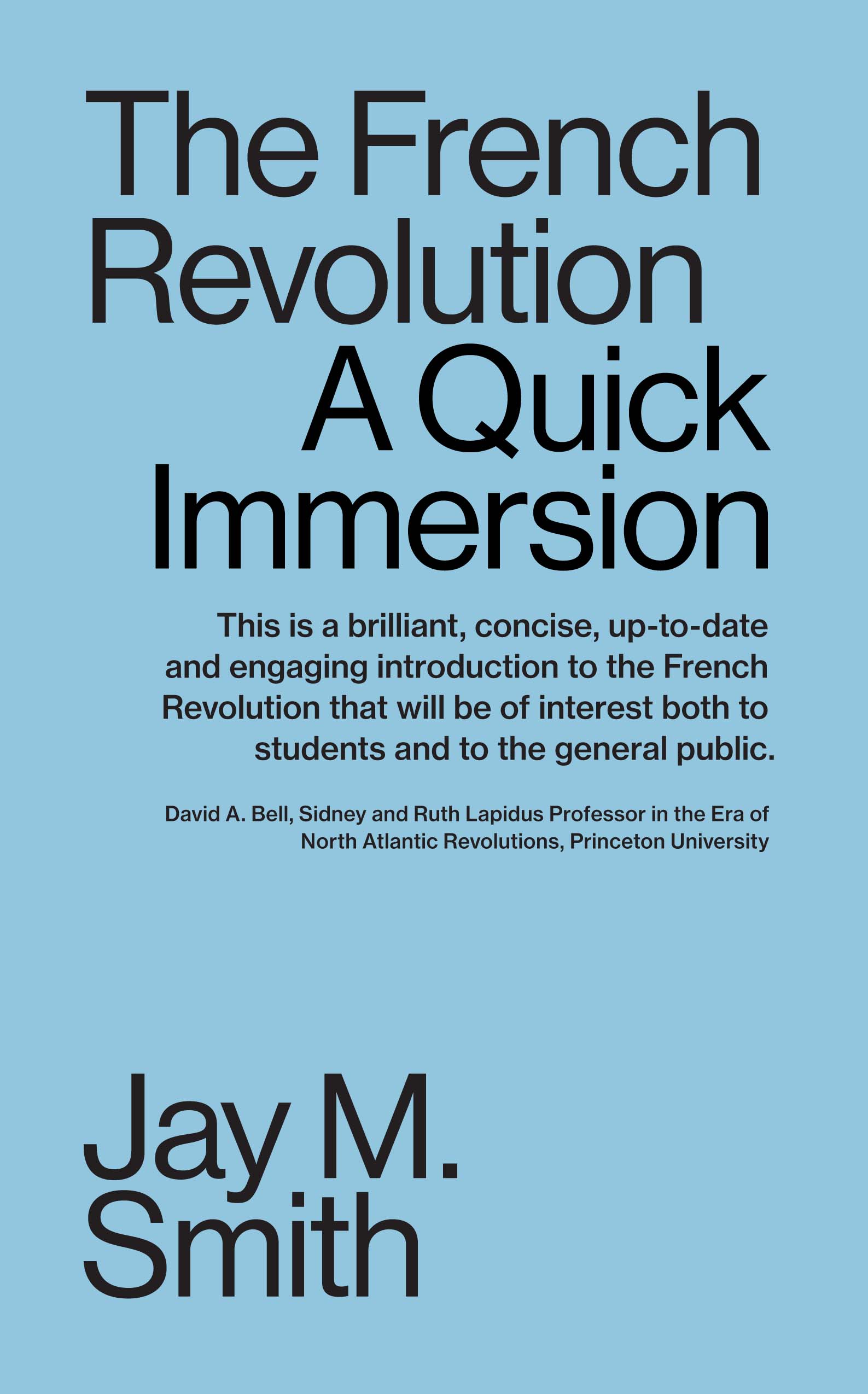 Quick immersions
Endorsements:
Library of Congress Control Number: 2020940997
"A sleek account of the twists and turns of the French Revolution, Smith's work achieves the rare feat of achieving clarity and coverage in a concise volume that students will appreciate. With its focus on revolutionary events, it provides essential context for classroom discussion of the principles at stake in 1789".
Rafe Blaufarb. Professor of History at Florida State University. Director and Ben Weider Eminent Scholar in Napoleonic Studies at the FSU Department of History
"A truly engaging immersion. Jay Smith's lively, suspenseful narrative introduces the key issues of the French Revolution. But he does not simply detail the unfolding of this pivotal event in modern history. He revisits the relationship between revolutionary origins and the Terror to explain how tradition, innovation, and contingent events intersected with explosive force to permanently change France and the world".
Laura Mason, Lecturer at Johns Hopkins University
"This is a brilliant, concise, up-to-date and engaging introduction to the French Revolution that will be of interest both to students and to the general public".
David Bell Professor of History of Princeton University
"By eschewing a sweeping survey in favor of a thematic approach to the French Revolution, Jay Smith has produced something that is of far greater value to teachers. Focusing on four critical challenges at the heart of the revolutionary movement, this narrative lends itself well to coaching students in critical historical thinking skills – understanding cause and effect, the effects of contingency, and patterns of change and continuity. Written in clear, accessible prose, this text is suitable for students at various levels, from advanced high school courses to undergraduate seminars."
Natasha S. Naujoks. Co-Director, Global Affairs Fellows Program and History Teacher at Norfolk Academy


Summary: This Quick Immersion introduces readers to one of the most dramatic and influential events in world history, one that opened a door to the implementation of 'liberal revolutions' across the globe in the following two centuries. The narrative's main focus is the peculiar political dynamic —oscillating between an almost utopian optimism and a pessimistic distrust of other political actors— that propelled the French Revolutionaries from one pivotal crisis to the next. Smith follows the story from the arguments over fiscal reform in the 1770s and 1780s, where many of the seeds of mistrust were first planted, to the fall of Robespierre and the dismantling of emergency government in 1794-1795.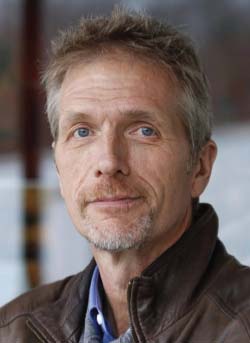 Jay M. Smith is a professor of history at the University of North Carolina-Chapel Hill and a specialist of eighteenth-century France. Most of his publications deal in one way or another with changing attitudes about social and political hierarchies. Among his principal monographs: The Culture of Merit (1996), Nobility Reimagined (2005) and Monsters of the Gévaudan (2011).








Blurb: This is a brilliant, concise, up-to-date and engaging introduction to the French Revolution that will be of interest both to students and to the general public.