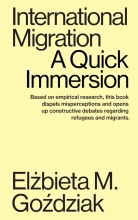 Portada:
Quick Immersions
Endorsements:
Library of Congress Control Number: 2021935891
This engagingly written and expansive book that roams across time and space, crosscutting disciplinary boundaries in delightful ways, centers on the questions of why migration matters and why an understanding of human population movements--whether on a global scale or within a particular country--is important to an understanding of the world in which we live. It reads like a good, long conversation with a deeply knowledgeable friend who has both up-to-date facts and a compelling grasp of the arc of the narrative of migration at hand. For the lay reader, as well as migration specialists and the undergraduate students they teach, this book offers a fresh and comprehensive look at migration. Dianna Shandy. Professor of Anthropology and Associate Provost, Macalester College, United States.
Elżbieta M. Goździak's Quick Immersion book on International Migrations captures the essence of modern migration. Precise and informative, this text discusses a range of migrations - those by choice, by force, or by economic necessity. Migration patterns hold up a mirror to the world, more accurate and clearer than some politicians or cultural elites may want us to believe.Goździak's case studies show much of the good but also the ugly that still needs fixing as millions of people wander around the planet in search of better lives, or at least safe and secure ones. There are key questions on migration, like why are we challenged by the arrival of migrants in our country? Should migrants not stay in their own country? Aren't there terrorists among migrants? Will migrants steal our jobs? And why can't they integrate? This book answers them in simple and accessible prose. Dr Benjamin Nickl, The University of Sydney, Australia.
This compact volume on international migration during the pandemic tackles the question of why migration matters with ingenuity and finesse. As COVID 19-related restrictions on foreign arrivals and refugee resettlement continue to bring forth unprecedented measures leading to a global cessation of movement, Gozdziak remains cautiously hopeful that this trend is reversible. Equally importantly, she convinces us that it cannot be sustained without notably heavy social, political and economic costs. The book judiciously covers key debates that shaped contemporary scholarship on international migration including the multi-faceted contribution of immigrants, ill effects of the early European settlers on indigenous people, different types of migration, and myriad migrant identities in Australia, Canada, and the United States, the critical relationship between mobility, migration, integration, diaspora formation and transnationalism in the European context, and, securitization of international migration. It is a welcome addition to any reading list on international migration, whether academic or personal. . NergisCanefe, Associate Professor, York University, Toronto, Canada.



Summary Anti-immigrant sentiments are high across the globe. Citizens are concerned about the failure of politicians to show effective leadership on migration. An ill-informed understanding of migration —and the resulting xenophobia and racism against refugees and immigrants— has people turning to populist politicians who wish to bring back protectionism, reverse globalization, and erect walls and fences. This book dispels some of the misperceptions that migrants are the source of societal ills and provides non-specialists with a basic understanding of the phenomenon of international migration to be able to engage in constructive debates on refugees and migrants.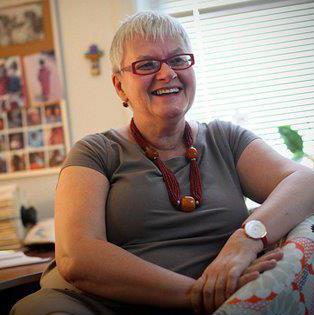 Elżbieta M. Goździak is a Visiting Professor at the Adam Mickiewicz University in Poznań, Poland and a Research professor at OsloMet University in Norway. From 2002 to 2018, she was Research Professor at the Institute for the Study of International Migration (ISIM) at Georgetown University. In the Fall of 2016, she served as the George Soros Visiting Professor in Public Policy at the Central European University (CEU) in Budapest, Hungary. She was also Editor-in-Chief of International Migration and held a senior position with the Office of Refugee Resettlement (ORR) in the US Federal Government. She is a recipient of several Fulbright grants to Poland, Thailand, Indonesia, and Slovenia as well as a residential fellowship at the Rockefeller Center in Bellagio, Italy.
Blurb: Based on empirical research, this book dispels misperceptions and opens up constructive debates regarding refugees and migrants